There are a lot of ways to describe Jeramie Hopson. Passionate and authentic, are two words that come to mind when talking about the Music Marketing Specialist at Beats By Dre. Hardworking, is another one, you don't get to work for such a notable brand without discipline and diligence. But the quality that stands out the most about Hopson, is how positive his energy is. Undoubtably, his positivity is an energetic force that is genuinely felt by all, and it is no mistake. Hopson's self awareness has created a life of fulfillment both personally and professionally.
Read more in this month's #VibeSesh, with Jeramie Hopson...
Q: Tells us about your role at Beats By Dre?
A: I'm a Music Marketing Specialist. My role ranges from helping manage and track budgets, product placement in Music Videos, updating the team on music trends, staying up to date on both emerging and established artist, product seeding, talent management, and lastly, but most importantly providing a platform for artist to bring their vision to life through various creative and experiential properties.
What has your path to Beats been like?
This could honestly be a very long answer. But in short, it has been an enlightening journey filled with plenty of GodWinks. GodWinks are the signs that happen in life that let you know you're on the right path. It's God's way of winking at you to let you know he has your back. I really pay attention (sometimes too much) to the signs. What I mean by that is my dad use to be a professional drummer, so I grew up in a music household. I played basketball at the collegiate level. I spent 4 years in the U.S. Air Force working in Montana on ICBM's. Received a degree in Business Marketing at Westminster College in Utah. Worked for a small agency in Venice, CA called Zambezi learning and marketing for culturally relevant sports and lifestyle brands. Then, in 2014 I was blessed with an opportunity to come to Beats by Dr. Dre right after the Apple acquisition. At each of these stops I've picked up skills that are helping me thrive in my current position.
I believe one of the most important lessons you'll learn is to just be yourself, and by doing that you'll attract the people you need to attract. When you attract the right people they'll help guide you to the right path. It's also a blessing to have amazing bosses and mentors in your life who'll give you the tools to prepare you for where you're meant to be.
A lot of what you do is help bring artists' creative vision to life, through content, events and marketing. What's the key to staying true to the artist, maintaining integrity and marketing their vision?
Great question. Maintaining integrity is the easiest part for me. I pride myself in being extremely open and transparent with artist. At times I worry that I'm too honest. But what I want to do is continue to operate with integrity because it makes the working relationship better. Every idea has a truth or an insight and I always try to find out what that is. Artist are very creative human beings that create based on experiences or truths, and I just listen to what those are, do my research, and the dots start connecting themselves. If they don't already have an idea of what they want to do, the ideas come to me or the team naturally because of how in tune we are to insights and truths.
That's when the joy really comes, once we're able to help deliver on their vision and see both the artist, industry and fans feel it and enjoy it.
You recently had the opportunity to work with Big Boi on his album launch, how was that experience for you both personally and professionally?
I want to eventually write a book about this one and not to gloat but to share what I learned from it and to help people who have hopes, dreams and aspirations to do things with people they've always looked up to or admired. This is actually the second time I've been able to do something like this in my career the first was working with and for Kobe. That's for another time.
OutKast is my favorite group of all time. They were the first artist I saw in concert, they were the first artist I knew every word to. I've purchased every album both as a group and solo. Watched Idlewild several times. I can write a short essay about this, but I'll save your readers. We all have an artist we feel this way about and many who feel the same about OutKast. But what was cool about this was seeing how when you're passionate about something how much it can drive you to do unbelievable things that you don't even know you can do. This was a breakthrough moment for me in my career. I had a lot of self doubts, insecurities, etc. but while I was working on this project I was plowing through walls going through a million different emotions. I'm sure people thought I was straight crazy I was so determined to work with Big Boi and help him promote his album. I got to experience where he started his career, where he continues to create his music, I got to be around his family. To be honest it didn't even hit me until it was done. It hit me when the content went into the world. I was never living in the moment because I was so concerned with making sure every detail was right. But what I do know is that God gave me that opportunity and I had some really amazing people helping me bring that to life from the label, to Big's management, to my team at Beats, everyone did their part and it was a dream come true. I'm truly thankful and grateful for everything that project taught me. I'll save the rest for a book or a podcast haha.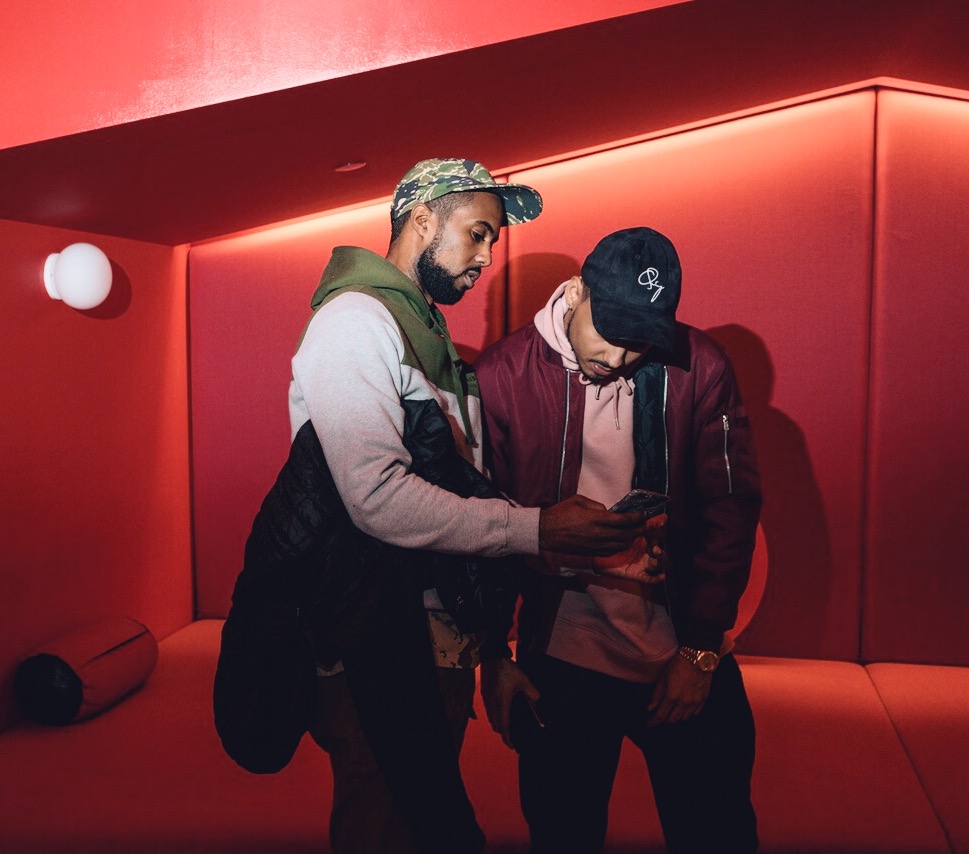 You are a husband and a dad, your little ones keep you busy, how do you sustain work/life balance and being present with your family?
 
This is a great question and something I'm still very much learning how to do. I work in an industry (music) where a lot of my peers are either single and/or don't have kids. I came into the industry with both so I put a ton of pressure and unnecessary stress on myself in the beginning thinking about that. I doubted myself and felt like I wouldn't really be able to make it because of those responsibilities. But what I've realized is that the most important responsibility you will have in life is being there for your family, and by balancing that correctly and taking care of family first, it gives you the energy needed to do great things in any aspect of your life. So now, sustaining it and being present with them really helps keep me grounded and gives me an outlet to escape the constant demands and madness that come with work.
Another blessing and something I don't take for granted is having co-workers who believe in my future and are understanding of how important it is to balance work/family definitely helps. But it also means I have to work smarter and be efficient and focused with my time. I wear this bracelet that has the word "balance" on it as well to give myself a daily reminder, because life is really all about balance.
Lastly, a lot of prayer and meditation. =)
How would you describe the impact that music can have on people?
I've always said the only thing that can change the world and make it a better place is music. I say that because the right music can evoke the most amazing feeling and it can really bring people together if used correctly. It can lift you up when you're down, pump you up for a workout, remind you of a past experience, and if you put a slow jam on when you're in a dark place, it can make you cry - I could go on.
Think about all the things that can have an impact on your life outside of music…now add music to those things and think about how much it enhances those moments.
I also think about it like this, when you go to a festival or a concert to see an artist think about how many different types of people come to a show? Now think about all the different ways that artist and his music has impacted peoples lives? The beautiful thing about that is how it brings people together for both the same and different reasons.
I'll end with this, think about a life with no music? A movie or show with no music?
What are some beliefs or truths that you live by, whether it be personal or professional?
I always use the term "Teamwork Makes the Dream Work". Anyone that knows me knows I'm really about that and preach it. There have been times I've gotten away from that and when that happens there's usually a harsh lesson that follows. You can't do anything by yourself, it usually almost always takes a team of people. My other new mantra is "Be a Light". I feel like being a light is important, there's such a positive connotation to what it means to be a light. There's nothing negative about light, it only attracts and exudes positive energy.
What are Vibes to you?
Vibes to me is the energy that radiates off of you. Positive energy you can feel. People who are positive and exude love carry extraordinary Vibes. There are bad Vibes too, but no one wants to talk about bad Vibes.
How do you Get Your Vibes?
The first thing I do to get my Vibes is put on music. Sometimes I just meditate. Go to the beach, there's something about the water, and the sun and the energy that radiates off of people at the beach. I ride my bike and put music on while I ride down the strand. Crystals. Go to the movies, I really love movies, really good TV shows with great storylines and cinematography. I just started burning Sage. There's also this thing I do when I have the time… if you go outside on a roof or patio or any space where it's quiet when the sun first comes up, or right as the sun is setting - just sit quietly, there's this Vibe you get. I call it the Golden Hours (right after sunrise, right before sunset). Basically when the sky has this awesome color to it and there's not a lot going on, it's quiet and calm it's such a dope Vibe. Praying or listening/watching a sermon or motivational speech are also instant Vibe starters.
Where can we connect with you?
Email: Jeramie.hopson@gmail.com
Website: Work in progress